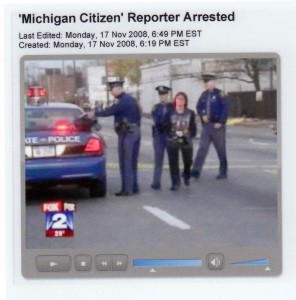 Dear Friends of Press Freedom & Human Rights:
The late Frank Murphy, one of America's most distinguished First Amendment advocates, former Detroit Mayor, Michigan Governor and U.S. Supreme Court Justice, would be outraged at the sight of a journalist in handcuffs being carted off to jail anywhere in the world but especially being convicted in a courtroom that bears his name. And the thought of a journalist being convicted for covering a story about a fatal high-speed police chase, after one state trooper seized her camera and erased her photos of the scene, should be enough to boil the blood of any freedom-loving human being.
However, on May 1, a Wayne County jury sitting in Detroit convicted journalist Diane Bukowski, 60, of two felonies; she was sentenced June 1 to one year probation and a $4,000 fine. She is now in the appeals process, represented by prominent attorneys John Royal and Sharon McPhail.  Bukowski was a 10 year veteran reporter for the thirty-year-old Michigan Citizen Newspaper. The paper was cited by the Columbia University Project for Excellence in Journalism as a vibrant media outlet for African Americans. Bukowski has prominently covered issues of killings, rapes, brutality and frame-ups by police and the prosecutors' refusal to bring them to justice.
In this atmosphere of increasing attacks on the First Amendment guarantee of freedom of the press and expression, we believe that this precedent may have a chilling effect on other journalists. We also believe that in this era of major social and economic crisis when we need wide open and robust debate about these issues the most, that this conviction may have a chilling effect on community leaders, ordinary citizens and residents who express independent viewpoints. Therefore, we call upon the larger American community to immediately come to the support of Diane Bukowski and the First Amendment.
We also request that you contribute generously to her legal defense
c/o The Committee to Defend Diane Bukowski and Freedom of the Press
9000 E. Jefferson, Apt. 10-9  Detroit, MI  48214
and spread the word to enlarge the battle.
Charles E. Simmons, J.D
Professor of Journalism and Law, Eastern Michigan University