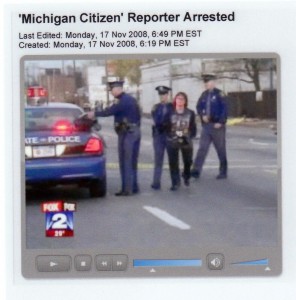 Attorneys John Royal and Sharon McPhail will represent Diane Bukowski in motions for a new trial and evidentiary hearing, Fri. Nov. 20 at 9 a.m. in Judge Michael Hathaway's court, Rm. #501 of the Frank Murphy Hall, 1441 St. Antoine at Gratiot.
 Bukowski was reporting for The Michigan Citizen on a fatal high-speed chase by state troopers Nov. 4, 2008 when she was arrested. She was convicted of two felonies May 1 and sentenced to one year probation and a $4,000 fine. Supporters of Bukowski, the police victims, and freedom of the press are asked to pack the courtroom.
"The fight for justice for James Willingham, a father of 10 with a large and loving family, and Jeffery Frazier, a beloved resident of the E. Davison neighborhood where the men died because troopers violated vehicle pursuit rules, must also continue," said Bukowski. "The one-year anniversary of their deaths as the holidays approach is an extremely painful time for their families."        
 Prominent, skilled appeals attorneys Royal and McPhail filed hard-hitting briefs. They say 36th District Court Judge Beverly Hayes-Sipes did not bind Bukowski over during her preliminary exam on  the charge central to the jury'sconviction: that she crossed a yellow police caution tape to take photos, which she denies. City Council President-Elect and long-time reporter Charles Pugh has executed an affidavit swearing that it has always been common practice for police to allow media, including himself, to cross caution tapes. Raw Fox 2 video of Bukowski's arrest showed clearly that she did  not assault, batter, wound, resist or obstruct the troopers as charged. 
Hathaway precluded testimony on Bukowski's role as a reporter at the scene, and failed to properly instruct the jury of her First Amendment constitutional rights."The U.S. Supreme Court has held that newsgathering falls within the protective ambit of the First Amendment and has provided greater insulation from liability to persons who are gathering the news," say Royal and McPhail. They also cite prosecutorial and judicial misconduct on Trczinski's and Hathaway's parts, respectively.